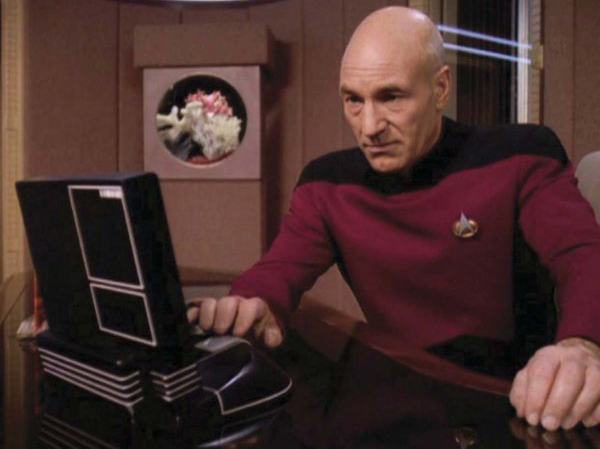 Let's cosplay with our iPads shall we?
In the age of the ultra thin, sophisticated, multi-touch tablets one has to wonder, where is my damn PADD already!!! One of the great technologies from Star Trek The Next Generation, for me, has always been the LCARS os based tablet called the PADD. The PADD was awesome, thin and able to go from place to place with Starfleet information at the ready. Sure we have the "iPad"…but it just doesn't feel right, you know? The apple iOS lacks the charisma of the LCARS system and it wasn't until the mini iPad was released that I really saw an opportunity fit to celebrate with Klingon Prune Juice!!

in 1994 Thinkway toys produced a semi-accurate, electronic TNG Picard desktop viewer bank. there easily available on bay for a cheap price and its loud and plays back Data's voice saying different phrases from the show, all with blinking lights and light up display. But what's make's this special is the neat coincidence that it lines up well with the iPad mini!! that's right, in landscape mode, the new little mini fits perfectly (help from 3M velcro) onto the screen portion of the bank! it was a nerd mash-up made in heaven…or the Holodeck. and now, you can have the same joy as well!!!! Here's what you need:
The Goods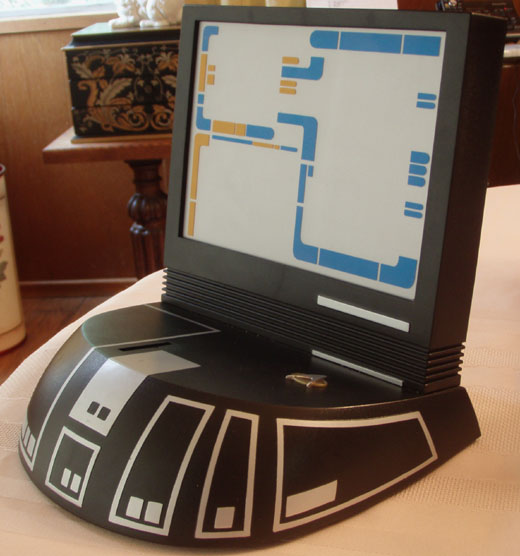 1994 Star Trek TNG desktop viewer bank
You don't have to install batteries unless you want the loud sounds, but it works well when you want to hear Data.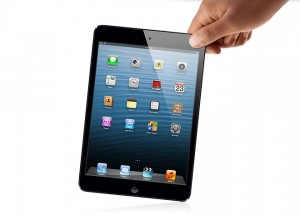 Ipad Mini
The small size of the mini iPad is perfect to use as a stand in PADD, it's thinly framed and fits in your packet. (you could hand it to the next guy on your crew shift if you want)
3m velcro tape
I used the non sticking, easily removable kind and it holds up really well
The apps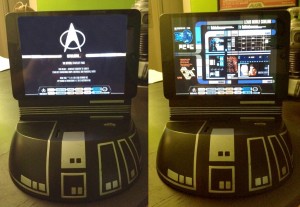 Star Trek PADD
https://itunes.apple.com/us/app/star-trek-padd/id446277240?mt=8
The officially licensed app from CBS containing all images and detailed specs of all Star Trek information that any Cadet would be happy with. It's essentially an expensive reference app with all the official sounds and lcars layout. I honestly don't use this as often as i would like but it's nice to go through every once and a while.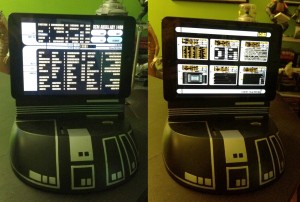 6 LCARS
https://itunes.apple.com/us/app/6-lcars-2/id566516614?mt=8
File this one under, impress your nerd friends and cool background when your ipad is docked on the desktop viewer. you get 6 animated LCARS views that look and sound authentic to TNG. they have no working function other than being animations, very well done animation. I often have 1 of the 6 animations running when docked.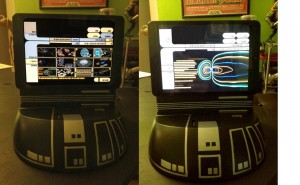 12 LCARS
https://itunes.apple.com/us/app/12-lcars/id547746507?mt=8
like it's predecessor, this app has 12 animated sequences with the one difference being that these are full beautifully rendered 3d graphics. the animations are more from a science and medical field, well the other LCARS app is mostly tactical and bridge oriented.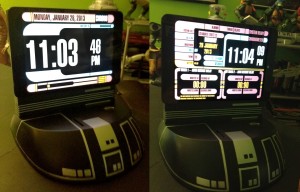 Clocktacular
https://itunes.apple.com/app/id441209598
Now this is where the PADD,…er i mean iPad shines. Clocktacular is a full on LCARS powered time clock, full with alarms, Chronometer, Stardate, Delays, and Timers. the fun appeal here is that you actually can use it as a full-fledged LCARS with a dedicated function (albeit a fancy clock). I enjoy running this as my alarm clock, especially in landscape mode. the nice bonus, it has a slew of color themes, from TNG through DS9 and more.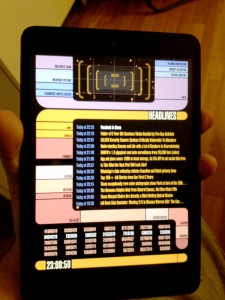 STARSS
https://itunes.apple.com/us/app/starss/id367300362?mt=8
By far my favorite Star Trek inspired app on the iPad. Now, unfortunately this one doesn't have landscape mode (keep your fingers crossed we get one) but you get the real fun on the go in portrait mode. If you want the real PADD experience, aside from Picard's ready room, STARSS is the way to go. You see, it's a sophisticated RSS reader, web browser and TACTICAL Station all in one amazing app. I use this so much when im walking around, i barely use my web browser to visit sites. you can shoot a weapon sound, activate a full red alert from the touch of a button and it's all complete with sounds. Seriously, download this app it's a lot of fun. with STARSS you feel like your on the bridge working on something with your PADD. Who wouldn't want to surf the web with a great LCARS UI on the iPad and isn't that ultimately the fun in it all?
So there you have it, go forth and buy an Ipad and get some Trek apps. (or don't, but please send me money, my Riker replica costume isn't going to pay itself!!!)