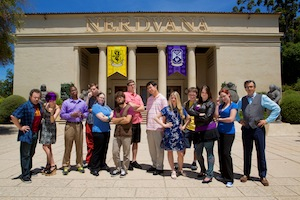 It feels like it's been ages since season 1 completed, but King of the Nerds is returning to TBS with season 2 very soon! Thursday, January 23rd, to be exact. TBS just announced this years competitors, and from the looks of the promo video, it's gonna be another good one! They also listed some of the new guest judges, as well as some returning fan favorites, and a special surprise that Revenge of the Nerds fans won't want to miss. Really looking forward to the new challenges, and all the nerd drama. And lets not forget the ALL NEW NERDVANA! Let's meet this years competitors. Any bets?

Brian, 27 – Urbana, Ill.– Library science scholar who enjoys German-style board games and discussing 18th-century European history. At one time, he had 100 books checked out from the Yale library.
Chris, 27 – Waco, Texas – Structural engineer who loves to travel and aspires to work in the space exploration industry.
Jack, 24 – Urbana, Ill. – Bioengineering student and fencing and chess champion who enjoys watching anime in Spanish, Portuguese, Chinese and Japanese.
Josh, 23 – Grayslake, Ill. – Game vlogger (with nearly 700,000 subscribers), nerdcore rapper and world competitor in card games.
Katie, 24 – Pittsburgh, Penn. – Roboticist and puppeteer whose work has appeared on Broadway and who formerly performed in ballet companies.
Kayla, 28 – Greenacres, Wash. – An ice hockey player who also holds a master's degree in space studies and believes she will one day reach Mars.
Kelsey, 23 – Canton, Ga. – Quad-lingual Japanophile who is equally as interested in playing video game music on the piano as she is keeping up with fantasy/sci-fi novels and swing dancing.
Mary Kate, 23 – Starkville, Miss. – Aerospace engineering student and avid costumer.
Nicole, 28 – Milwaukee, Wisc. – Chemist, gamer and former marching band member who currently competes in a Milwaukee roller derby league.
Xander, 27 – Los Angeles, Calif. – Vlogger, graphic designer and LARP enthusiast who lost 100 pounds by playing a popular dance video game.
Zachary, 21 – Minneapolis, Minn. – Fantasy writer and hardcore gamer who has also memorized more than 300 hours of musical lyrics in genres ranging from J-pop to rock.
TBS also announced some of the guest judges, including:
Bill Nye (Bill Nye the Science Guy, Dancing With the Stars)
Mayim Bialik (The Big Bang Theory)
Jon Heder (Napoleon Dynamite)
Kevin Sorbo (Hercules)
Kumail Nanjiani (Franklin & Bash)
George Takei (Star Trek)
Yaya Han
And last but not least, as we anticipated in our interview, this season will feature a Revenge of the Nerds reunion! No word on who will be back, but we can't wait to see it!