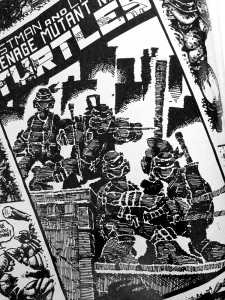 in 1984 two glorious things happened, in a far away house in New Hampshire, Peter Laird and Kevin Eastman created The Teenage Mutant Ninja Turtles and across the planet I was born. It's hard to believe that its been 30 years since these bodacious turtles came out of the sewers and into our houses. (and a gross baby Mauro was born). Over the years we've seen so many iterations of the Turtles since their first black & white appearance in 84. And now, as we embark on yet another iteration of these turtles in half shell on the big screen, it's time to really look back and celebrate the 30th anniversary of the Teenage Mutant Ninja Turtles.
Thankfully, insight editions has published a new book, "Teenage Mutant Ninja Turtles: The Ultimate Visual History", that takes an in depth look at origins of the TMNT. Staring at the 190 page book was a little intimidating, but I have to admit, after reading the forward by Peter Laird, I was hooked. This book takes you through every milestone Peter Laird and Kevin Eastman went through before and after the Turtles became a cultural sensation.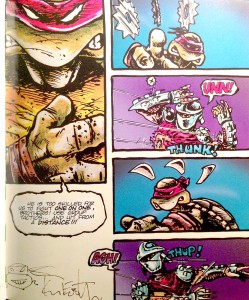 But where is the fun in a book about the turtles without any pictures? right?? well you're in luck because as the title states, there are tons of photos to make any Turtle fan drool with excitement. From the rough duo shade turtles to the (personally hated) Michael Bay produced Ninja Turtles film are in this book. In addition to some really great pictures, the book comes with little prints of original artwork and reproduction of flyers that were used when the first comics were being created. I've lost count of how many amazing cool little prints are sprinkled in this book, all with some significance to the turtles rise to fame.
*Bonus points, look for the awesome pull out poster and reprint of the 1st Turtles comic included in each book. I really got a kick out of seeing that first issue again and going through all those classic black and white panels.
***Extra Nerd Points!
One of the art pieces in the book is framed and on display at the Sugar Brownstein studios right now! Yay for original art!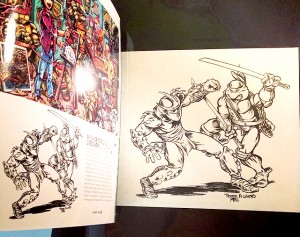 Who's this book for?
Any fan of the turtles, of any iteration, are going to love this book. You will get to see some really cool behind the scenes photographs and stories from the creators and those who helped these Turtles come alive outside of the comic book.
Where can I get it?
Amazon has them in stock for $35.04, get Prime and it ships super fast!
We hope to see some really cool Ninja Turtle merchandise to start appearing in anticipation of the new film! Lets hope for a re-mastered blu ray 4k Steve Barron Ninja Turtled film release!!! (fingers crossed)
-Mauro