A long time ago, Monster headphones debuted their Tron line of headphones and accessories from the film Tron legacy. Ranging from an Identity disc iPhone dock (non-removable, lame!!!) to a pair of high end headphones called the T1.
Built with a custom Tron inspired LED drive system in them, the headphones were briefly showed in CES and never seen again. You see, these babies were always delayed by production issues. After many failed promises, Monster failed to deliver there T1 headphones to the public. that is, until there "Daft Punk" T1 editions started showing up on various stores.
now it's entirely possible these were made by the same chinese factory that produced the T1's for Monster. I got a set of Daft Punk headphones and the quality is great, dare i say pretty great.

Packaging;
they did an awesome job here, sleek black box with a white tron-esque line visible in the middle. the top half opens out much like a little drawer to reveal the white canvas carrying case with the "T" on it. the box is sturdy and almost a shame to throw out.
The Case:
this one is interesting, you see, one of the reasons that led me to believe that these aren't the official, final production, Monster headphones is the case. Within in it you see there is a space for a microphone which would have connected to the headphones as shown in one of monster's CES videos. The case has a foam cutout for the microphone but in its place is nothing, in fact, the headphones don't even have said adapted input on them. The foam padded touring case is more than adequate to protect these expensive babies from the elements or the unruly office cubicle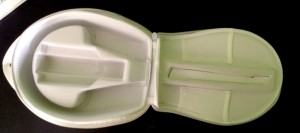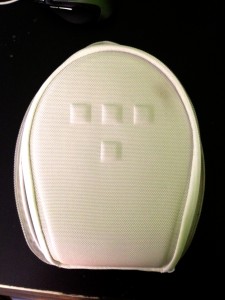 Sound;
Music is really good on these, but podcast are sorta weird. When i heard our podcast on these I noticed the sound was too spaced out, almost like if it were hearing it from a wall to my ear. Other than that, Music on pandora was great, clear and no static popping that you get from cheap headphones speakers. these are really good when playing videos.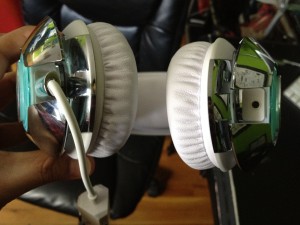 Accessories:
you get two here, one being the Iphone controlled cable that turns on the LED lights and lets you skip, forward and adjust volume. (it worked on my macbook as well for volume control) the only drawback is that the control itself feels very flimsy and the plastic feels super thing and i worry over time it will damage. the second cable is your standard 3.5mm audio cable headphone jack (no lights just audio).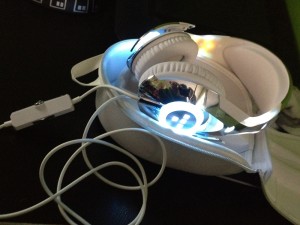 Headphones:
isn't this what really matters? in a nut shell, really shiny, white, and super bright lights define these headphones. I can go on about sound or the case blah blah, but if you getting these it's because, like me, you love the look and feel of Tron. Trust me, your are going to get that with these. Although the regular T1 black editions never hit the market, the Daft Punk editions are more than enough to satisfy any fan of the Grid.
Ranging from aqua/blue to yellow/orange these are pretty much designed to garnish attention. and yes, people will ask you, "what the hell are you wearing dummy" (just be ready for it). I've brought these to work and the light is still very visible in daylight. It's powered by a single AA battery.
what distinguishes these apart from the regular black T1 headphones is the chrome. (there's enough to go around). From the ear cups to the head band there is so much chrome and it definitely deserves it's Daft Punk label. my co workers were worried I'd blind them with these babies at one point. If you're not put off by the chrome then these babies are for you.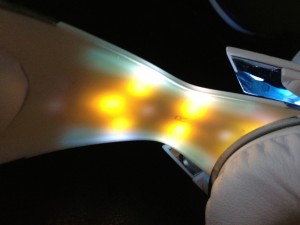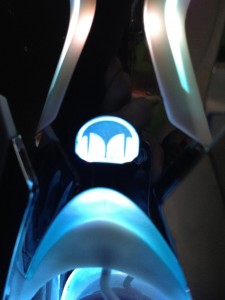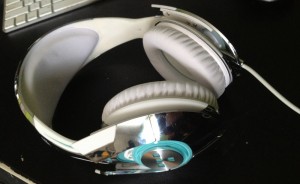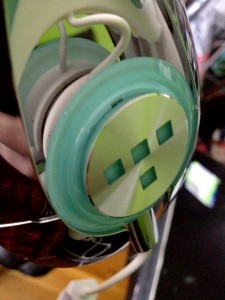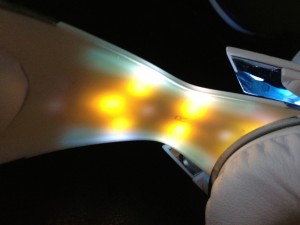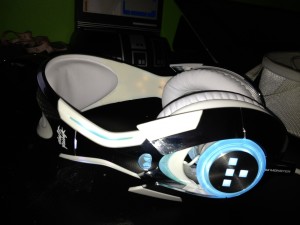 In Summary:
Really fun headphones, although not for everyone, these Daft Punk editions T1's will please a majority of Tron fans and a lot of club-heads.
Pros:
-amazing sound
-Ios control music and audio playback
-Bright shiny lights of Tron
Cons:
-no other color options, would have been nice if the black T1's had hit the market.
-the Chrome can be a bit much, especially when the sun sets (ahhhh)
-no boom mic, as suggested by the touring case padding. :-/